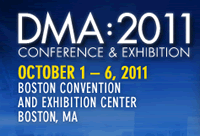 From October 1st through the 6th, interlinkONE and Grow Socially employees will be participating in various events around DMA Boston 2011. We will be on the show floor, we'll be attending some of the after-hours networking events, and we'll be meeting up with customers & prospects.
If you are planning on being at the conference too, we'd love to see you there! Please feel free to let us know.
While it certainly is nice to have a show of this magnitude right in our backyard, we have also been quite pleased with some of the pre-show commentary that the DMA has been releasing.
In fact, we might have burst into a spontaneous company dance after reading this article. Yes, the headline and the sub-headline were right up our alley:
"'Integrate,' says DMA"
"Multichannel strategy emphasized at DMA's All for One conference"
Those two lines are ones that we try to live by everyday when it comes to our marketing efforts. It's not always easy, but using our own technology helps 🙂
P.S. If you have any questions about how you may be able to improve your marketing efforts through integrated, multi-channel activities, please feel free to register for a demo here >>