Sometimes the usual phone call or email is just the complete wrong way to follow-up with leads.  While tempting, keep in mind that you may catch them at a bad time, lead them to feeling like they're "being sold," or have them ask you to stop attempting altogether.  How can you spark action and interest into that lead without a hard sell?  Simple!  Here are 9 types of information you can send to your leads to keep their attention:
Recorded Webinars
Webinars are a convenient way of educating a large audience with minimal costs associated.  What is also great about them is that they can be recorded!  If you're going to deliver a great presentation that highlights your expertise, make the most of it by saving the recording and using it as a sales tool for future leads and inquiries.
Recorded Sales Demonstrations
In sales, you may come across a situation where you have to deliver multiple demos for the same company before you can close the deal.  While every point of contact is an opportunity to get closer to the lead, make sure they don't forget you (and can show you off to colleagues) by sending them a recorded demo.  That way, they can refer back to it at their convenience and never forget the greatest parts of your software. For example, check out our drag-and-drop demo for our mobile website builder, iFlyMobi!
Digital Company Brochures
If you have a fantastic printed brochure, turn the original PDF file of it into an electronic sales tool!  It's a great way to sum up all of your company's benefits and services into one well-designed package, and your leads can then save it on their desktop.  Be sure to share this via a software that handles electronic fulfullment so that you have a history record of sending it.
eBooks
Educate your audience with an enticing eBook that includes interesting facts about your audience's pain points, and the solutions to those problems.  You can subtly promote your services and products within them, but have this eBook act as a reminder to all that you're the answer to their problems.  Take a look at our eBook, "Guide to Selling Marketing Services" for inspiration.
Videos
Position yourself as the expert by giving tips, best practices, and a summary of services in 1-2 minute video clips.  Send this along to your prospects as a conversation starter, and let them get to know you through creative videos.
Podcasts
If you have team members who are fantastic speakers, podcasts may be the best approach to take when trying to capture their knowledge.  You can get away with longer podcast sessions as opposed to videos because the listener can listen in the car, at their desk over lunch, or on their morning run. Invite educational guests and keep folks coming back monthly for more knowledge!
Infographics
If you have a great graphic design team, and some captivating statistics, highlight both of these resources in an infographic (like this one).  They're interesting, fun to look at, and share-worthy.  You can share information about the industries your target audiences are in, how you have increased success for clients, or how you're keeping up with new technologies.
Service and Product Sell Sheets
Perhaps your leads don't need the entire brochure, all they may want is a one-pager that goes over key benefits of one service or product they may be interested in.  Think real estate; they've mastered the 1 page sell. What's great about having electronic sales sheets of your various offerings is that you can send a mixture of them depending on what your lead needs, and not clutter up their mind with too many ancillary services that don't suit them.
Surveys
This sales tool is beneficial for two big reasons.  If you deliver a survey with weighted questions, you can customize the end results of what the survey would say based on the lead's answers.  It also helps you qualify the lead in finding out what type of offerings would best fit their needs.
The bottom line?
The sales process doesn't always have to be direct.  Take more of an inbound marketing approach and let them come to you. Sometimes the best way to keep the conversation going is to send educational and informative materials that will captivate your leads and get them excited about what you have to say so when they are ready, they come to the expert first (pssst…that'll be you!)
Related Posts:
Need a reminder of these great tips? Print this handy cheat sheet:
interlinkONE recently attended Print '09 in Chicago, IL. This trade show was a large show lasting six days long and we had some great new things to show. Some of those items included our new banner, new collateral and new show panels.  So we were excited to get to Chicago.
With that said, it was my task to get all of these items in the booth bin and on its way to Chicago.
Packing the trade show booth bin was a week long process once I started. It takes a team effort to get the booth ready. Organization and preparation is key.
To help ensure we didn't miss anything, we created and worked off a checklist.
(To download the PDF of a sample checklist, click here.)
Once everything on the list was checked off, it was time to start packing. Getting everything in the booth bin was like putting together a puzzle. I learned a lot in getting it done…. Hopefully these next steps will help for future shows, and might even help you the next time you head to a trade show:
You've got to start with the biggies….. Place all of the  large items in the booth. Then, move on to the small items (i.e. extension cords, small collateral, tape, etc…). Avoid the urge to squish everything – if you keep it neat, you'll make the most out of the limited space you have.
Before you lock the cover on the bin, take out your check list and check it once, twice and three times. Make sure you packed it all! There's nothing worse than getting a call of panic from a team member when they are at the show – "Where is the ________?"
Another tip that might be helpful to you is to include the Return Shipping Label with the booth. This way, when the team packs up to head home, they can easily apply the Return Label and drop it right off at the mailing center. This saves a lot of time after a long show.
I am happy to say that the booth bin and box made it to Chicago in one piece and they had a great time at the show.
I hope my experience helps you for any future shows that you may exhibit at!
Alright, it's time for a question! Now, please be truthful… The question is – do you have a marketing plan for the next 12 months? How about the next 6 months? 3 months? Next week?
If you have answered yes to any of those questions, that is great.
But I am guessing a lot of you may take the approach of "fly-by-the-seat-of-your-pants" marketing. When inspiration hits, or you receive bad news from your finance and accounting team, you put the wheels in motion to do a direct mailer.
In business, you absolutely need to be flexible. You need to be willing to make adjustments to your priorities and marketing activities when circumstances call for it.
However, by laying out a marketing plan ahead of time, we can avoid a lot of the crashes and emergencies that arise every year. Along with that, we can avoid the trouble that some of us fall into – doing hardly any marketing at all!
I'm sure we all have the best intentions when it comes to promoting our business. We all want to do the right things to create a buzz about our product and services. But obstacles arise – maybe it's time and resources… maybe we have a mental block on what the creative should be, or what the message should say. Or we feel that we don't have the tools to execute it.
A marketing plan can help us prepare for and overcome those types of obstacles.
A marketing plan should be simple. It certainly involves a bit of thought and planning, as well as some honesty. But there is no need to make it complicated. Let's take a minute to discuss what to put in your marketing plan.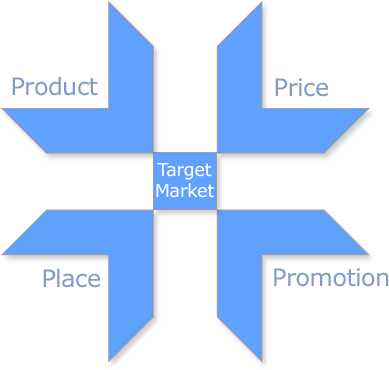 The first step is to define the right marketing mix. Have you heard of the 4 P's? Here they are:
Product – define exactly what it is that you have to offer. Outline the brand, the appearance, and what challenges your product helps to solve.
Price – How much are you willing to sell your product for? How much are your prospective customers willing to pay? Are there times throughout the year where Discounts might help increase sales?
Placement – It's all about getting the right message to the right people at the right time. When the customer is ready to buy, will you be in there?
Promotion – How will your prospective customers hear about your product? This is where we really start to look at the channels that are available to us. Advertising, Direct Mail, Email, Websites, Social Media, etc.
Filling in the 4P's on a blank piece of paper may seem challenging. But, it doesn't have to be. Start by thinking of what you've done in the past… How did you market your company last year? Or 3 years ago? Pay attention to how other people are marketing their business. A little bit of inspiration can go a long way.
After you've taken the step of defining your mix of marketing activities, the next step is to get out the calendar. Yes, you need to set goals for your business, and then set the actual dates for when you will execute the activities that you will reach those goals.
For example, here are a few possible activities that you should put dates on:
Send out an e-Newsletter to my current customers on the 1st of every month
Send out a promotional direct mailer 4 times a year (Jan., April, July, Oct.)
Run Holiday promotions (July and Dec)
Place advertisements in March, May, and November
Open House in June
There are certainly other items that you could identify on your marketing plan… But starting with the 4P's and your calendar can really help you to succeed. Once you have it all filled out, don't file it away! Make sure that it is visible to you over the months to come. This will help serve as a reminder for the activities that you have planned out…. it will help keep fresh in mind the priority and urgency that we all strive to have in regards to promoting our business.